We are proud of our Catering Team who work hard to provide students with healthy and tasty meals which are made freshly on-site every day.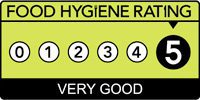 All of our catering staff are trained in food safety and hygiene and we hold the highest standard 5-star food hygiene rating.
Our friendly catering staff are always happy to help the students with any queries they may have. We have three separate kitchens so we can always find a tasty meal so please do ask the staff to help you.
Paying for School Meals
The school uses 'WisePay' to enable parents and staff to make secure online payments for school meals, and other items. Further information about how WisePay works is available on our  'Payments to School' page.
A daily limit of £4.55 is set for students in Years 7-11, and £6.70 for those in Years 12-13. This is a daily limit and includes any items purchased during morning break. Parents may contact the school if they wish their child to have a different limit. Please ensure that funds are available on your WisePay account in advance to pay for meals. To assist with this, an email reminder is sent to parents of students whose accounts contain less than £3
Free School Meals
Did you know that just by registering your children for Free School Meals, in addition to gaining the support yourself, the school will receive money which can then be used to help the students? Click here for more information.
Other Information
The majority of our suppliers are reputable local businesses
We consider the environment in our catering provision, using plastic free, biodegradable sandwich boxes, compostable pasta pots and recycle or re-use containers wherever possible.
The catering department is self-financing – the very reasonably priced meals generate the income necessary for all costs including salaries and utilities