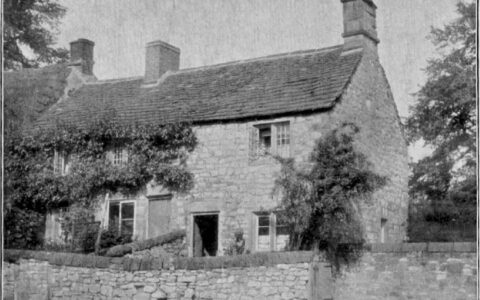 Lady Manners School began on 20 May 1636. This was when Grace, Lady Manners set up a fund to pay a teacher and wrote a set of rules to guide the initial stages of the school. It opened properly the next year. It was a charity school to provide free education for poor boys in Bakewell and Rowsley. The School Charter from 1636 still exists and confirms these arrangements.
At first, there was only the one teacher and the rules about his job seem quite tough. Every day (except Sunday) he had to read prayers at 6.00am at church. So our traditional link with Bakewell Parish Church began at that initial stage. The teacher was then in school by 7.00am and worked until 11.00am. There was then a long lunch break. At 1.00pm he had to start work again until 5.00pm. He was not allowed to marry or have any children. For all this he was paid £15 a year.
The school must have had a good start because in 1649, in her will, Lady Manners actually made sure that the school could keep going by donating land that generated £15 a year in income.
2. The Eighteenth and Nineteenth Century
For most of the early history of the school it was very small compared with today. It has also been sited at different places within Bakewell. The records show that in the year 1774 there were about 50 boys in school – and this seems to have been a fairly normal number during the Eighteenth Century.
By the Nineteenth Century the rules about teachers must have changed because the Headteacher in 1830 was married and had three boys who all attended the school. Education was still free, but there were some extra lessons that you had to pay for if you wanted to take those subjects. For example, reading, English grammar, writing, Latin and Greek were all regarded as essential and were free. If you also wanted to study Maths you had to pay more than £2 a year! In 1846 the school became known as a grammar school.
Between 1874 and 1896 the school was closed. This was because there was not enough money to keep the school going and, when the Headteacher died, it was decided to let the funds build up until there was enough to make a better start. This was done and, eventually, other ways to support the school financially were also developed.
3. 1896 to 1936
The school opened again for a completely fresh start on 22 September 1896. The big difference at this stage was that the school was now opened both for boys and for girls. This was unusual at that time and Lady Manners School was the first endowed school in the whole country to admit both boys and girls. The age range allowed was 8 to 18.
Like now, politeness and respect were very important. The rule then was that girls would always be allowed to enter and leave rooms before boys. Boys were told that they had to open doors for girls.
By 1900 the school had 56 girls and 65 boys. Boarding houses were set up in 1900 so that students from further distances could attend school. This facility continued until 2003, when the Boarding House at Castle Hill was closed.
Another special feature of the school was that it was one of the first places in the country to train teachers how to teach. In 1905 a centre was opened in Granby Croft where the training of teachers was organised.
4. The Modern School
In the 1930s the school moved again. There were more students and a new site had to be built. On 20 May 1936 – exactly 300 years after Lady Manners had started the school – the foundation stone for the buildings that we now have was laid by John Manners, 9th Duke of Rutland. You can still see this stone today.
In 1972 the school stopped being a grammar school and became comprehensive. In the 1970s extra classrooms were built because more space was needed for the comprehensive school. The Rowsley Suite was created as well as a number of other rooms. This stage of the development was officially opened by HRH Princess Margaret on 28 June 1973.
Developments continue to take place. New additions to the buildings are the Sixth Form Centre and the new Gym which were built in 2005, funded by using income gained by selling the facility at Castle Hill. These new additions were officially opened by Lord Edward and Lady Saskia Manners on 4 May 2006.
During 2010 a new Vocational Centre was added behind the Sixth Form building. This provides a range of practical courses, including construction. In 2016 the Old Gym area, no longer routinely needed for PE, was converted into a multi-purpose studio, where Drama is now taught regularly. Our most recent project has been to improve the sports facilities even further with the addition of a 3G pitch. Lady Manners School continues to develop and grow, providing for the needs and interests of our children and the community.
5. The House System
The House System was created in 1912. At that time there were three Houses established called Town, North and South. The planning for this took place during 1911 and the original reason for creating the Houses was to help develop Sport in school so that, with a competitive dimension, students would enthusiastically play for their Houses. This provided a chance for students to achieve success and enjoy friendly yet meaningful competition. So Sports Day on 21 June 1912, which was actually the Fourteenth Annual Sports Day, was the first time that the Houses competed against one another for the Wrench Shield. The first ever winners were Town House (the equivalent of our current Glossop House).
After the First World War, in 1919, the Houses were renamed and an extra House was added. The principle of allocation to the Houses was still geographical. The Houses were then called Nesfield (the South area – Matlock and beyond), Taylor (also South as far as Darley Dale), Glossop (the Bakewell 'Town' area) and Barker (the North). These names were those of Governors who had been especially important in the reopening of Lady Manners School in 1896.
In 1924 a new school was opened in Matlock (Ernest Bailey School) so fewer students came from that area and Nesfield House disappeared. Barker House also disappeared for a while at the end of 1937 because when Buxton College became a County School there were fewer students from the North area. This led to a review of the principle of allocating students to Houses on a geographical basis. To confuse the situation a little further, there was also a 'School House' (photographs of the twenty or so members of which still exist for the period 1931 to 1941) which was for 'boarders'. This House did not seem to compete for the Inter-House trophies in quite the same way as the main Houses, but did have their own activities, organised internally, for children living in the School House. By 1938, coinciding with the effective occupation of the new school buildings on Shutts Lane, the main Houses were rearranged again – now numbering four; Elton, Haddon, Glossop and Taylor.
In 1947, just after the Second World War, there was another change when the number of Houses became three again and Barker reappeared, replacing Haddon and Elton. Competition between the Houses was no longer just on the basis of Sport, and other activities had become important too.
By 1959 there were plans to create a fourth House again and this time the new House was to be named Cockerton. This naming was a tribute to the Cockerton family that had given over 50 years of service to the School, firstly with Mr VR Cockerton and then with his son Mr RWP Cockerton. Both had been School Governors and Mr VR Cockerton had been actively involved in establishing the current school site.
So ever since the early 1960s there have been four Houses – Barker, Cockerton, Glossop and Taylor – and students are no longer allocated to these Houses according to where they live.
An independent collection of Lady Manners School memorabilia, including school photos taken as far back as 1924, has been collated by Richard Hildebrand. Richard is an alumnus of Lady Manners School, and former ICT Network Manager at the school.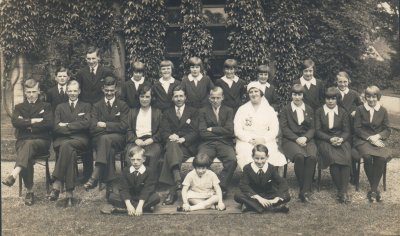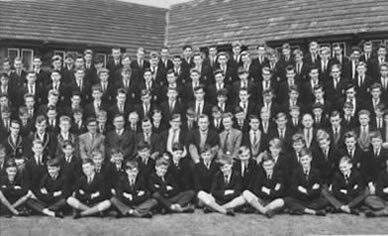 Click here to visit Richard's Lady Manners School Archive website, to see more photos.