As you are probably aware, Shutts Lane is very busy at the beginning and end of the school day. With over 1,300 students arriving or leaving the site at the same time, safety is our prime concern.
For this reason, we ask all drivers to observe the highway code:
do not park on the yellow zig-zag lines outside school, even if just to pick up or set down children
do not park opposite or within 10 metres (32 feet) of any junction, in this instance the junctions of Shutts Lane and Monyash Road, and of Shutts Lane and Yeld Road
School staff (identifiable from their high visibility jackets) supervise crossings at the end of the school day to assist with the safe departure of students. They may ask drivers of cars not parked in accordance with the highway code to find alternative parking.
Morning drop off arrangements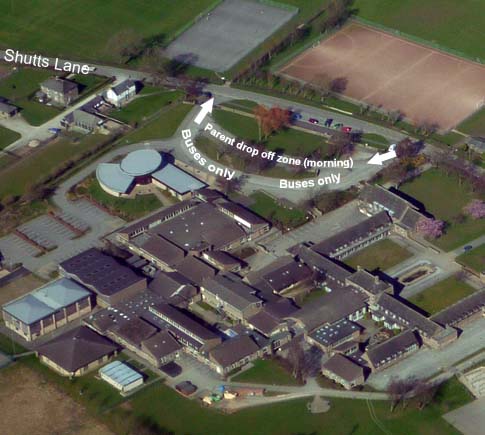 In order to improve student drop-off arrangements in the morning, there is an additional arrangement whereby we keep the 'inner bay' of the bus bay clear, for use by parents dropping off students. This is intended to reduce the number of parents needing to park on Shutts Lane.
Please note that this arrangement cannot operate in the afternoon, due to the number of buses needing access to the bus bay simultaneously.
Parents and carers are asked not to park in any other school car park at the beginning and end of the school day, to protect the large number of students using these entrances on foot at these times.
Thank you for your co-operation.